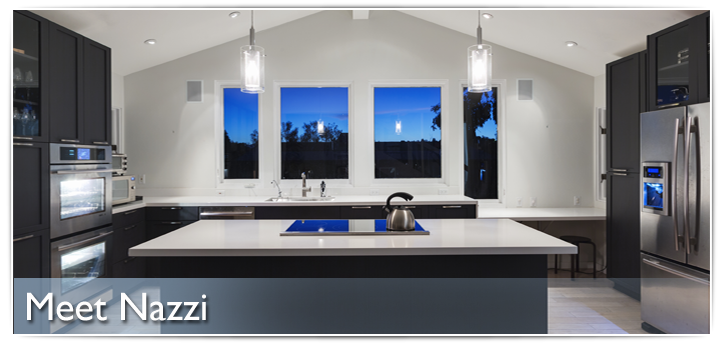 Nazzi Shishido is a powerhouse professional in the Silicon Valley Real Estate Market. She continues to redefine the meaning of excellence regardless of market conditions. Nazzi is a Broker Associate and an expert focusing on Los Gatos, Monte Sereno, Saratoga, Almaden, Campbell, Cambrian, Willow Glen and Rose Garden markets. She is widely recognized as one of the best-trained negotiators in the business.

Before her successful real estate career, Nazzi held multiple executive management positions with Fortune 500 technology companies in Silicon Valley. Her productive high tech experience is the foundation of her solid performance in real estate, which has placed her among the top producing agents in the Silicon Valley. Nazzi holds a Bachelor of Science degree in Electrical Engineering.

Nazzi possesses creative and tenacious negotiation style; intensive networking; client responsiveness and a keen understanding of the Silicon Valley real estate market and its culture. She approaches each project with sincere passion and honesty, treating each client, as she would like to be treated.

Technology driven, she incorporates the latest technology and information tools to stay abreast of ever changing real estate market in order to provide real-time data and unsurpassed support to her clients.

Nazzi's extraordinary passion, honesty and strong work ethic along with the aforementioned strengths truly set her apart as a powerhouse in the Silicon Valley real estate market. Her goal: To provide a rewarding and meaningful real estate experience for her clients.

On a personal note, Nazzi is married and a resident of Los Gatos for more than 26 years. Her husband is a Silicon Valley veteran with BSEE and MBA degrees from Stanford University.



PARTIAL PROPERTIES SOLD BY NAZZI
45 Wadsworth Avenue, Los Gatos




66 Ellenwood Avenue, Los Gatos,




470 San Benito Avenue, Los Gatos




131 Massol Avenue, Los Gatos




218 Forrester Road, Los Gatos




57 Ellenwood Avenue, Los Gatos




16206 West Ellenwood Ave, Monte Sereno




72 Mariposa Avenue, Los Gatos




52 Hernandez Avenue, Los Gatos




19480 Bainter Avenue, Los Gatos




16500 Wood Acres Road, Los Gatos




One Massol Court, Los Gatos




61 Ellenwood Avenue, Los Gatos




14625 La Rinconada Drive, Los Gatos




15 Walnut Avenue, Los Gatos




18826 Blythswood Drive, Los Gatos




17259 Deer Park Road, Los Gatos




349 Los Gatos Blvd, Los Gatos




125 Hill Top Drive, Los Gatos




76 Mariposa Avenue, Los Gatos




16780 Frank Avenue, Los Gatos




13558 Old Oak Way, Saratoga




18317 Chadbourne Lane, Monte Sereno




470 San Benito Avenue, Los Gatos




17628 Vineland Court, Monte Sereno




642 San Benito Avenue, Los Gatos




241 University Avenue, Los Gatos




17230 Phillips Avenue, Los Gatos




225 Wooded View Drive, Los Gatos




14870 La Rinconada Drive Los Gatos




15973 Cherry Blossom Lane, Los Gatos




5944 Country Club PKWY, San Jose




228 Massol Avenue, Los Gatos




105 College Avenue, Los Gatos




19632 Glen Una Drive, Los Gatos




136 Newell Avenue, Los Gatos




16373 Alexander Court, Monte Sereno




230 Old Blossom Road, Los Gatos




231 Almendra Avenue, Los Gatos




1007 Broadway Avenue, San Jose




17801 Kilkenny Road, Los Gatos




16395 Belmont Court, Monte Sereno




203 Tait Avenue, Los Gatos




18400 Daves Avenue, Monte Sereno




224 Tait Avenue, Los Gatos




2210 Terra Nova Lane, San Jose




43 Bayview Avenue, Los Gatos




240 Harding Avenue, Los Gatos




14745 Golf Links Drive, Los Gatos




21 Gran Via, Alamo




16131 Camino Del Sol, Los Gatos




15700 Kavin Lane, Los Gatos




15757 Kavin Lane, Los Gatos




135 Apricot Lane, Los Gatos

15970 Cerro Vista Drive, Los Gatos




14830 Blossom Hill Road, Los Gatos




15930 Rose Avenue, Los Gatos




208 Granada Way, Los Gatos




122 Johnson Avenue, Los Gatos




16373 Alexander Court, Monte Sereno




21 Palm Avenue, Los Gatos




17230 Phillips Avenue, Los Gatos




16401 Blossom Hill Road, Los Gatos




15971 Linda Avenue, Los Gatos




135 Tait Avenue, Los Gatos




17801 Kilkenny Road, Los Gatos




15619 Carril Court, Monte Sereno




16309 Short Road, Los Gatos




956 Cherrystone Drive, Los Gaots




20561 Leonard Road, Saratoga,




17100 Los Robles Way, Los Gatos




17401 Los Robles Way, Los Gatos




18570 Decatur Road, Monte Sereno




18570 Decatur Road, Monte Sereno




15275 Suview Drive, Los Gatos




16176 Azalea Way, Los Gatos




131 Boyer Lane, Los Gatos




1825 Oakdell Avenue, Menlo Park




16536 Farley Road, Los Gatos




14870 La Rinconada Drive Los Gatos




17280 La Rinconada Monte Sereno




1976 Adele Place, San Jose




110 Hill Top Drive, Los Gatos




440 Monterey Avenue, Los Gatos




17421 El Rancho Avenue, Monte Sereno




1104 Foxhurst Way, San Jose




40 Bayview, Los Gatos




1 Orchard Street, Los Gatos




15757 Kavin Lane, Los Gatos




105 Ash Court, Los Gatos




18113 Bancroft Avenue, Monte Sereno




133 Lansberry Court, Los Gatos




705 Cilker Court, Los Gatos




1025 Louise Avenue, San Jose




13055 Mount Hamilton, San Jose




144 Whitney Avenue, Los Gatos




19938 Baroni Court, Saratoga




136 Newell Avenue, Los Gatos




1 Orchard Street, Los Gatos




72 Miles Avenue, Los Gatos




16381 E La Chiquita Avenue Los Gatos




109 Elena way, Los Gatos




16863 Leroy Avenue, Los Gatos




6559 Deer Hollow Drive, San Jose




15560 Old Ranch Road, Los Gatos




1007 Broadway Avenue, San Jose




16357 Hilow Road, Los Gatos




126 Clover Way, Los Gatos

74 Ellenwood Avenue, Los Gatos




116 Meadowbrook Drive, Los Gatos




119 Ann Arbor Avenue, Los Gatos




72 Miles Avenue, Los Gatos




104 Craig Way, Los Gatos




15700 Kavin Lane, Los Gatos




730 Cilker Court, Los Gatos




260 Edelen Avenue, Los Gatos




119 Ann Arbor Avenue, Los Gatos




16131 Camino Del Sol, Los Gatos




16412 E La Chiquita Avenue Los Gatos




525 Cress Road, Scotts Valley




23449 Sunset Drive, Los Gatos




510 Monterey Avenue, Los Gatos




140 Mary Way, Los Gatos




16861 Placer Oaks Road, Los Gatos




17120 Crescent Drive, Los Gatos




117 Broadway, Los Gatos




2936 Silver Estates, San Jose




1545 De Anza Way, San Jose




179 Lu Ray Drive, Los Gatos




119 Craig Way, Los Gatos




215 More Avenue, Los Gatos




16849 Placer Oaks Road, Los Gatos




102 Lu Ray Avenue, Los Gatos




351 Penn Way, Los Gatos




150 Kensington Way, Los Gatos




258 East Main Street, Los Gatos




18400 Overlook Road, #44 Los Gatos




18400 Overlook Road, #64 Los Gatos




18400 Overlook Road, #45 Los Gatos




230 Howes Drive, Los Gatos




1366 Legend Lane, San Jose




1204 Castlemont, San Jose




2226 Los Gatos Almaden Rd, Los Gatos




1213 Greenbriar, San Jose




5292 Makati Circle, San Jose




1545 De Anza Way, San Jose, CA




104 Alta Heights Court, Los Gatos




15681 Camino Del Cerro, Los Gatos




1577 Shasta Avenue, San Jose




15400 Winchester Blvd #10, Los Gatos




244 More Avenue, Los Gatos




2017 Mayfield Avenue, Campbell




123 Spruce Hill Court, Los Gatos




1550 Saint Francis Drive, San Jose




255 Radford Drive, Campbell




970 Minnesota Ave, San Jose




190 Redding Road, Campbell




725 Vonna Court, San Jose, CA




2226 Los Gatos Almaden Rd, San Jose




2239 Stokes Street, San Jose




2044 Donovan Court, San Jose




853 Monty Circle, Santa Clara